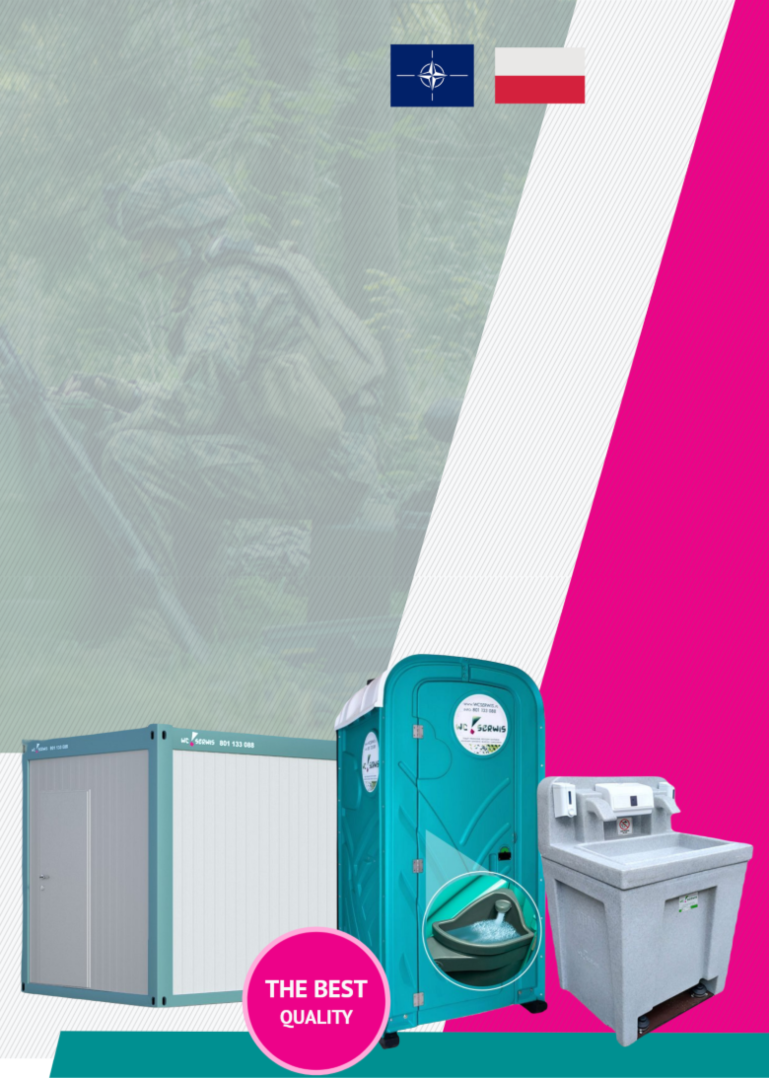 PORTABLE SANITATION FACILITY FOR THE ARMY RESIDING IN POLAND
We're a full-service provider of portable restrooms, showers and many more for military purposes
We are a leader on the Polish mobile sanitary service market. It has been 25 years that we've been providing portable toilets, sanitary facilities, and multi-functional containers, covering the entire territory of Poland. Owing to complex service and superior quality assortment, we've been trusted by thousands of customers. We provide services to the military, police, construction, and event industries. One of our strategic, long-term projects is the support of the Polish Army. We provide sanitary facilities to training grounds throughout the country. One of our most prestigious tasks is providing services for military units during international NATO maneuvers.
Are you in need of sanitary facilities?
We operate all over Poland
WC Serwis offers its products to any place in Poland. Thanks to our local branches, we are able to reach even the most distant border areas. We provide a complete product range and regular service in locations devoid of any infrastructure. Our services are characterized by convenience and functionality. Our online ordering panel allows you to quickly order the necessary equipment, which we will deliver to any place on the map of our country.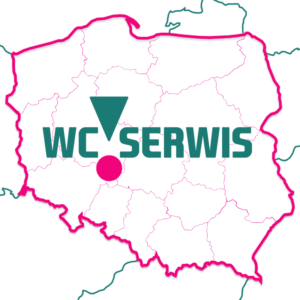 PORTABLE TOILET CONTAINERS
Our containers represent a comprehensive solution in the organization of field maneuvers. The placement of shower cabins, toilets, urinals and washbasins in the container allows to obtain a complete sanitary facility.
Standard Sanitary Containers are an ideal solution for the organization of sanitary facilities equipped with independent water and waste tanks
Premium Sanitary Containers – an economic arrangement for spaciousness, comfort, and greater user privacy.
Exclusive sanitary containers – equipped with top quality materials and a one-of-a-kind interior finish
Office containers – perfect for professional, social, and accommodation purposes. Mix and match into horizontal and vertical modules to put together sets in various configurations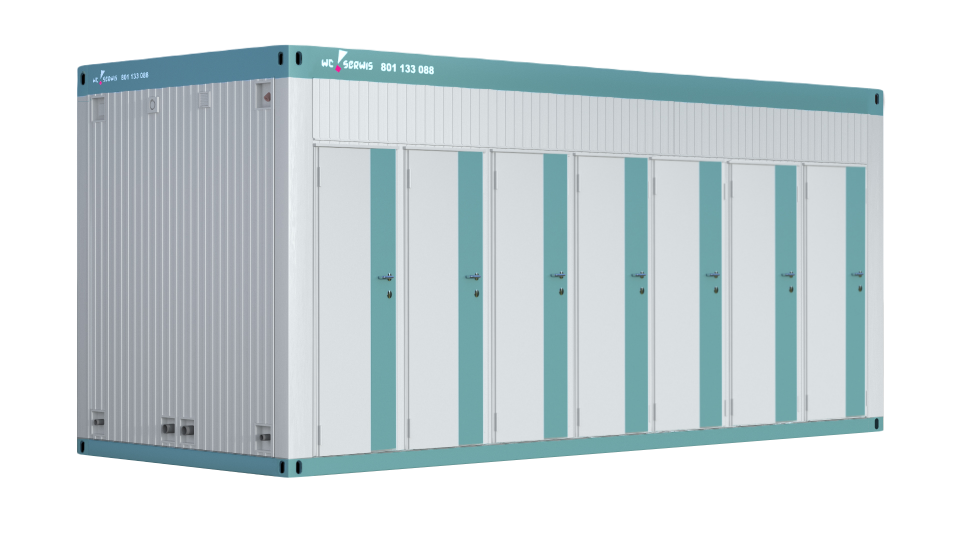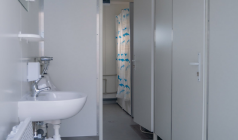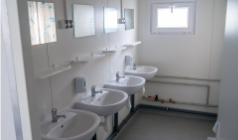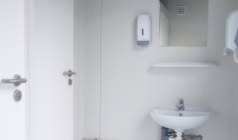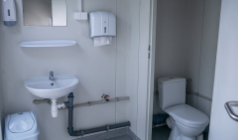 The possibility of choosing from several equipment variants will allow to address the high expectations of all customers. Containers can be combined into modules of various configurations, creating a temporary headquarters. Do you have a question about our offer? Feel free to contact us
Are you in need of sanitary facilities?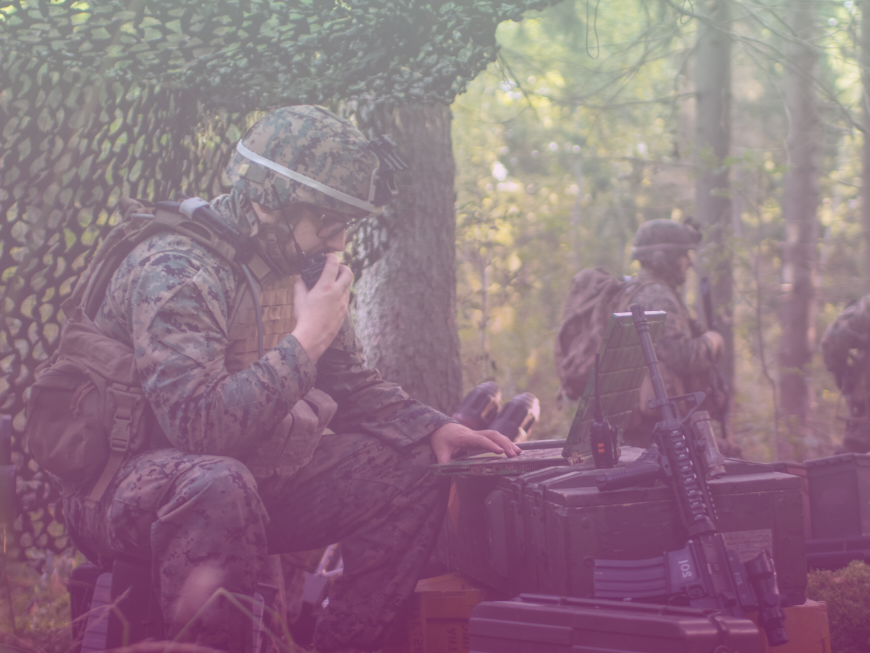 Are you in need of a mobile sanitary facilities? We will help you choose the best offer
Providing sanitary facilities in such challenging terrain as a military training ground requires only the best equipment. Our toilets, containers and other products are made from top quality materials and are fit for harsh weather conditions. The chemicals used for waste disposal meet the most stringent standards and maintain their properties in extreme temperatures.

Our product range is exceptionally extensive and our assortment is varied in terms of equipment. Thanks to this, each customer can find a mobile toilet to suit their own requirements. A portable toilet is one of the most universal solutions that provides users with comfort and appropriate conditions. Equipment:
Facilities for people with disabilities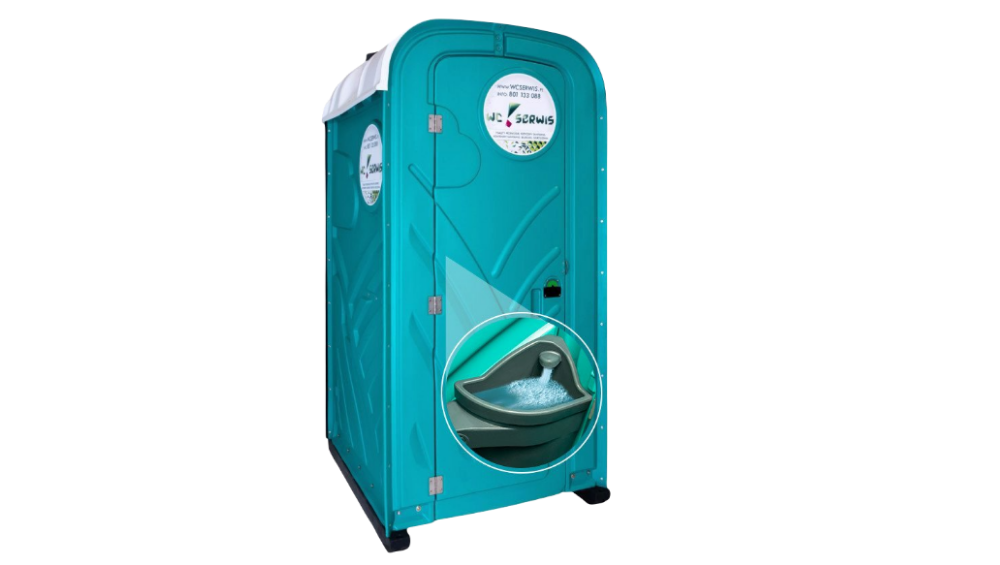 Toilet rental is the only solution whenever there is no access to a sewage system or a septic tank at a given location, and it is necessary to provide sanitary facilities.

FAST
REALIZATION

EXPERIENCE

CUSTOMER
SATISFACTION

HIGH
QUALITY
The washbasin comes with two independent hand-washing stations and a tank for clean and dirty water. The washbasin can be connected to the sewage system, in which case the clean water tank will have a 340 l capacity. Equipment:
Disposable towel dispenser
Clean and dirty water container

Are you in need of sanitary facilities?
Do you need a more extensive offer?
The WC Serwis assortment also features equipment for separating areas, such as barriers, barricades, and fences, which is characterized by exceptional stability and durability. The openwork structure makes our products light and fully portable. Their versatility allows for their placement on any type of ground, regardless of terrain shape or unevenness. They are in line with European standards for temporary site protection.

In places with no access to utilities, our tanks are the only source of running water necessary to supply sanitary infrastructure. Their design allows for their transport with a forklift or HDS. The tank equipment can be supplemented with a hydrophore, which will allow to supply water from the available reservoir.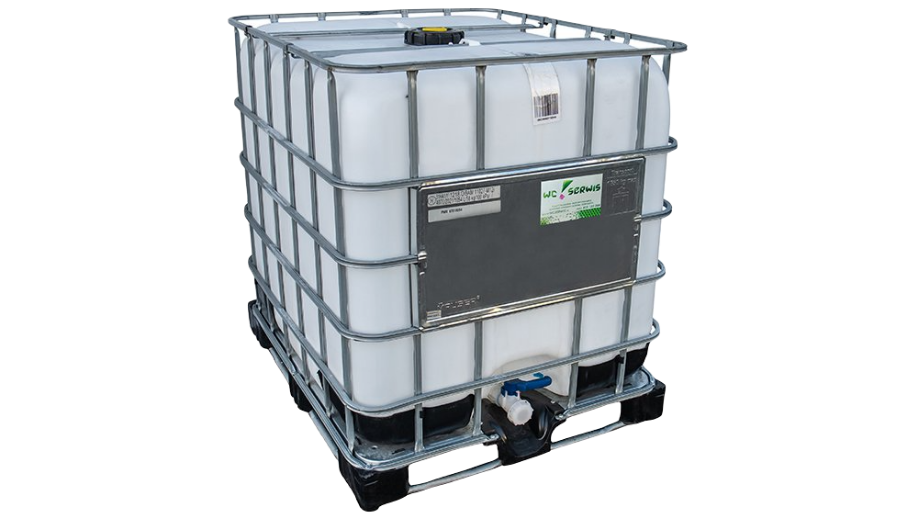 Rental of individual items from our offer goes hand in hand with comprehensive logistics and service using superior quality equipment, chemicals, and materials that meet current safety standards. Feel free to contact us to discuss your needs and scope of order in detail.
Equipped with cutting-edge transport equipment and thousands of sanitary devices, we are able to meet even the most complex orders. We will help you plan the necessary infrastructure by selecting the appropriate service package. Just contact us.